University of the Arts London
London College of Communication
16-06-2022
Exploring Alternative Design Methods
Masters major research project into design methods
Timeline
20 weeks
Deliverables
︎ Background and user research
︎ Planning a design thinking process
︎ Building wireframes
︎ Creating visual identity and language
︎ Design the product UI
︎︎︎

View Figma prototype



︎︎︎

Download report
Premise

Consciously designing products that are good for the user, the society and the environment is an integral part of being a responsible designer. In order to design responsibly, a designer needs to have a variety of design methods in their toolkit to customise products based on different needs.
This project is aimed to conceptualise an easily accessible space for designers where they can learn about alternative design methods and ethical principles that guide them.
Scope of the project

Goals

The aim for this project is to build a bridge between design and research by making design research freely accessible to all designers. There are 2 goals that of this project:
Conceptualise a digital platform for visual designers that they can use to explore alternative design methods.
Consolidate a set of existing ethical guidelines relevant to individual design methods, so that designers can make ethically informed decisions.
Desk research
There were 4 questions I wanted answered through this research.
Which existing avenues do designers have access to, in order to explore different design methods?
What does a visual designer's design process look like?
Investigate whether visual designers explore and incorporate different design research methods for different design projects.
How do designers use ethics in their design research and talk about ethical principles with their clients and colleagues?
To answer these questions, I followed the
Double Diamond Design Process
by the Design Council UK.
Discovery phase
Clear goals for this research project were set during this phase. It started with preliminary research through books, journals, websites and talking to designers. It consisted mainly of secondary research. A major inspiration for this project was the Map of Design Methods based on the book -
Universal Methods of Design
by Bella Martin and Bruce Hanington.
Definition phase
Goals were defined better through user insights and the research question was reframed once more.
Development phase
This is when I began visual explorations of the product. It started by building a brand identity encompassing the brand visuals, language and identity.
Delivery phase
This phase was speculative in nature since it was out of the scope of the undertaken project.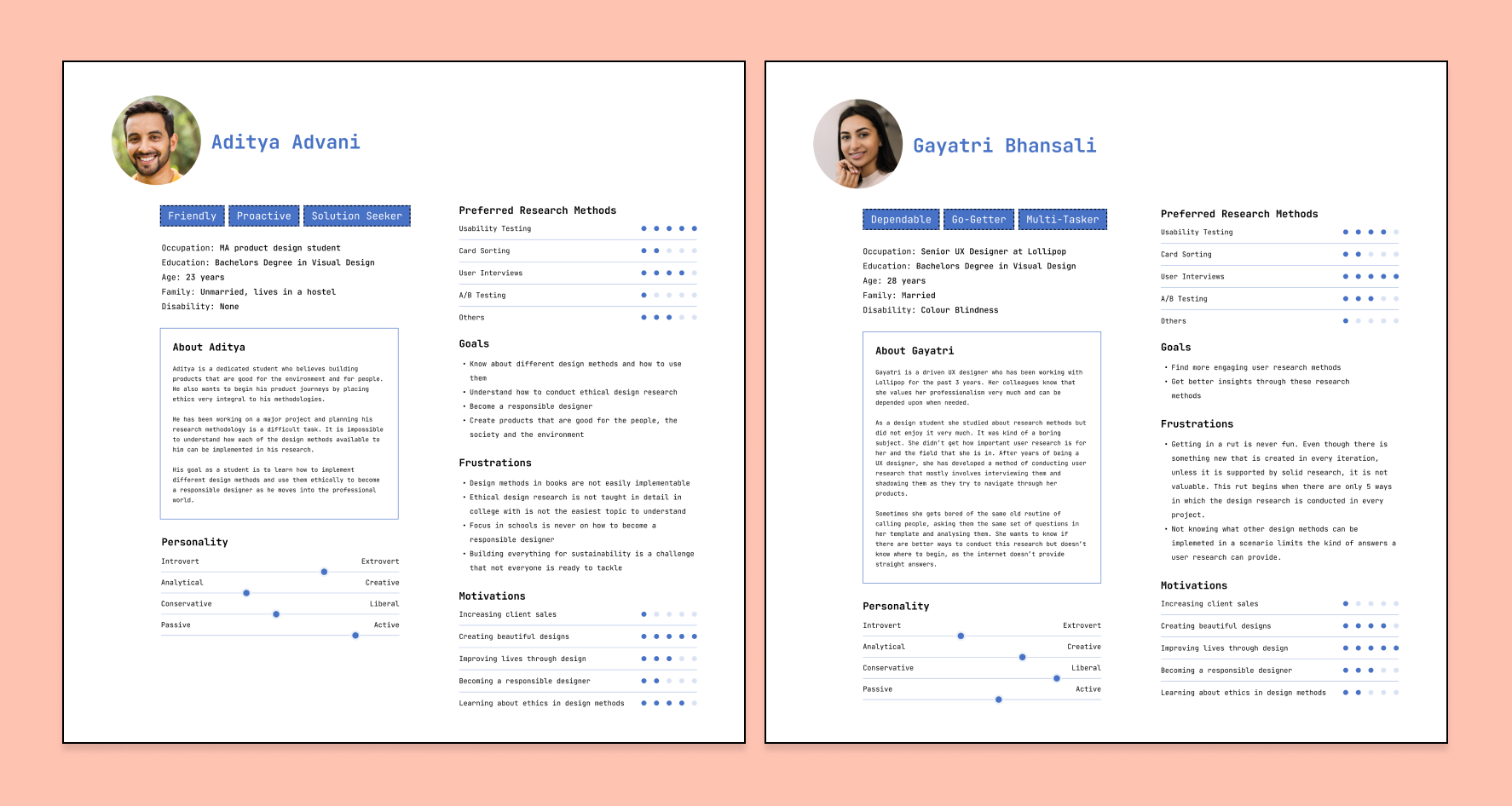 Interviews
To conduct interviews, I had developed a set of guidelines to follow during the interviewing process.
Create the interview in a way that it does not take more than 30 minutes to finish.


Due to the constraints of time,

it is important to ask as many relevant questions as necessary

so make sure to form questions that are comprehensive and concise.
Create a consent form that outlines the ethical guidelines to be followed during the interview process (it had to go along with the interview invitations).


Make sure that the interview does not contain any personal information of the participants during the audio recording.


Send invitations to potential participants with an explanation of the project as well as

the relevant information about the interview.
Visual research

The primary sources of visual inspiration for this project were
Lance Wyman's Mexico 68
brand language and identity and the visual style of the early 80s of the Memphis Movement and the quintessential new avenues of entertainment like the arcade and the disco music.
Explorations
Final designs

Conclusion

For too long visual designers have been left out of or stayed away from the core design research conversation in professional settings. Its time to change that. Its time to make designers well equipped to plan a design process which is based on strong design research.
User testing
The user testing of the prototype is underway and results will be posted when they are out. Thank you for your patience.
Check out
other projects
in the meantime! Or
︎︎︎

Download full report here
Whistl
Case study
07-08-2020
A product for mental fitness
Building an app (UX+UI) for Whistl along with its brand identity and design system
Timeline
8 weeks
Deliverables
︎ Brand identity
︎ Scalable design system
︎ UX+UI of a mobile app design
︎︎︎ Download the app on Playstore
Introduction

Whistl is a mental fitness app that focuses on creating workouts for your brain to keep it healthy. Just like you need physical exercise to keep your body healthy, you need mental exercise to keep your mind fit. It is now also a part of the prestigious
NASSCOM Start-up Incubation Program
.
Scope of the project

Goals

When Whistl came to me in 2020 they had an idea in mind of how the app would work. They wanted me to build user flows based on that and then convert them into user interfaces that reflected a happy, cheerful and productive personality.
Desk research

To begin with, I looked at how the existing products in the market had built their identity, and what niche had they crafted for themselves. The biggest one was
Calm
. Most of them had a very calming cool tone, like blues and purples. It's a great choice because these colours have a soothing effect making the person using the app, calmer and more trusting of the product.
As Whistl had a different goal than most meditative apps, they wanted a brighter and more actionable colour scheme.
Headspace
is a wonderful example of such a theme. With this information, I created a style scape that would act as a fundamental building block of the brand identity and then created visual explorations for the look of the brand.
Explorations

From exploring the brand style and identity to experimenting with the components of a design system, this phase gave structure to how the product would eventually look like.
Final designs

Here are the final design system components and key screens.
Conclusion

When building a brand identity and product together, it is important to understand how competitors have created theirs, how they communicate with their audience and how they look on different platforms. This, along with what these competitors are missing from their visuals and communications is how you can fill a market gap. For Whistl, it was creating a mental fitness app, unlike the plethora of meditative apps out there, their goal was to create make individuals mentally strong by providing easy exercise that can vary from meditation to walking outside to participating in a hobby.
CSF
Case study
15-03-2020
State of the Sector Report - Private Schools in India
Creating a digital report for Central Square Foundation along with a style guide and a data visualisation framework
Timeline
12weeks
Deliverables
︎ Style guide
︎ Data visualisation framework
︎ Digital report
︎︎︎ Download report
Introduction

Central Square Foundation
is a nonprofit organisation that works in the education sector to improve the quality of learning outcomes in schools, especially in the low-income sector. They wanted to create an extraordinarily detailed and data-driven report on how private schools in India are faring when compared to their government alternatives and where they need to improve further. I created this project when I was working with
HumanX
.
Scope

My task for this project was to create a new style guide that is different from CSF's brand guidelines, a data visualisation framework based on the style guide and the entire report.
Goals

The goal was to create a report that focuses heavily on data visualisations while also making sure it looks engaging and bright and the long length of the report does not discourage readers from using it and understanding it. An important goal was to prioritise visual hierarchy and create visual breaks where possible to make reading the report more relaxing and enjoyable.
Research and explorations

To create the style guide, I started with the cover design of the report. I explored multiple visual styles and narrowed them down to one. This I used to explore more colours, typefaces, photography, iconography and grid. Once I finalised these elements, I explored the various data visualisations to see how they fit in with the style, are immersive and easy to understand.