University of the Arts London
London College of Communication
16-06-2022
Exploring Alternative Design Methods
Masters major research project into design methods
Timeline
20 weeks
Deliverables
︎ Background and user research
︎ Planning a design thinking process
︎ Building wireframes
︎ Creating visual identity and language
︎ Design the product UI
︎︎︎

View Figma prototype



︎︎︎

Download report
Premise

Consciously designing products that are good for the user, the society and the environment is an integral part of being a responsible designer. In order to design responsibly, a designer needs to have a variety of design methods in their toolkit to customise products based on different needs.
This project is aimed to conceptualise an easily accessible space for designers where they can learn about alternative design methods and ethical principles that guide them.
Scope of the project

Goals

The aim for this project is to build a bridge between design and research by making design research freely accessible to all designers. There are 2 goals that of this project:
Conceptualise a digital platform for visual designers that they can use to explore alternative design methods.
Consolidate a set of existing ethical guidelines relevant to individual design methods, so that designers can make ethically informed decisions.
Desk research
There were 4 questions I wanted answered through this research.
Which existing avenues do designers have access to, in order to explore different design methods?
What does a visual designer's design process look like?
Investigate whether visual designers explore and incorporate different design research methods for different design projects.
How do designers use ethics in their design research and talk about ethical principles with their clients and colleagues?
To answer these questions, I followed the
Double Diamond Design Process
by the Design Council UK.
Discovery phase
Clear goals for this research project were set during this phase. It started with preliminary research through books, journals, websites and talking to designers. It consisted mainly of secondary research. A major inspiration for this project was the Map of Design Methods based on the book -
Universal Methods of Design
by Bella Martin and Bruce Hanington.
Definition phase
Goals were defined better through user insights and the research question was reframed once more.
Development phase
This is when I began visual explorations of the product. It started by building a brand identity encompassing the brand visuals, language and identity.
Delivery phase
This phase was speculative in nature since it was out of the scope of the undertaken project.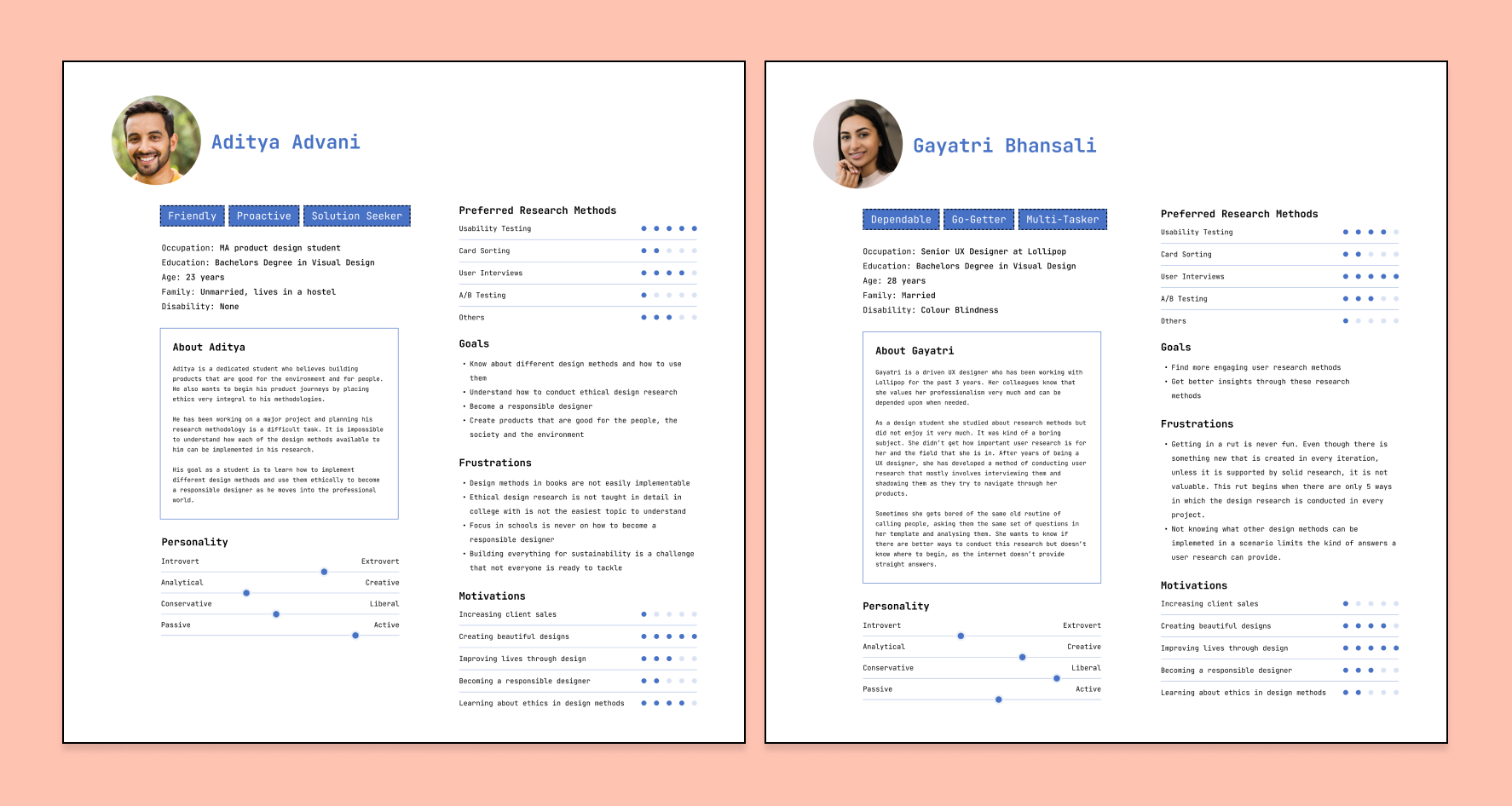 Interviews
To conduct interviews, I had developed a set of guidelines to follow during the interviewing process.
Create the interview in a way that it does not take more than 30 minutes to finish.


Due to the constraints of time,

it is important to ask as many relevant questions as necessary

so make sure to form questions that are comprehensive and concise.
Create a consent form that outlines the ethical guidelines to be followed during the interview process (it had to go along with the interview invitations).


Make sure that the interview does not contain any personal information of the participants during the audio recording.


Send invitations to potential participants with an explanation of the project as well as

the relevant information about the interview.
Visual research

The primary sources of visual inspiration for this project were
Lance Wyman's Mexico 68
brand language and identity and the visual style of the early 80s of the Memphis Movement and the quintessential new avenues of entertainment like the arcade and the disco music.
Explorations
Final designs

Conclusion

For too long visual designers have been left out of or stayed away from the core design research conversation in professional settings. Its time to change that. Its time to make designers well equipped to plan a design process which is based on strong design research.
User testing
The user testing of the prototype is underway and results will be posted when they are out. Thank you for your patience.
Check out
other projects
in the meantime! Or
︎︎︎

Download full report here